Prathima Foundation Conducted Health Camps in the Month of July
Prathima Foundation Conducted Health Camps in the Month of June
Prathima Foundation Conducted Health Camps in the Month of April
Prathima Foundation Conducted Health Camps in the Month of March
Prathima Foundation Free Heart Surgeries for Children – March 2018
Prathima Foundation in association with Healing Little heart foundation, London, and support by Prathima Institute of Medical Sciences, Nagnur, Karimnagar conducting Free Heart Disease Treatment Camp from11th March 2018. Information announced by Dr. Amit, Professor of Paediatrics Department – Prathima Institute of Medical Sciences. Information covered in print and electronic media. Since from the day, it started many of the children got operated and brought happy smiles to their families. As a continuous process, Doctors from London from Healing Heart Foundation visits PIMS for performing heart surgeries.
Prathima Foundation Supports Cancer Victims
Prathima Foundation taken a step towards providing quality treatment to the cancer victims. On the occasion of Prathima Cancer Institute Foundation Laying Ceremony, Dr. Harini, Founder Member of Prathima Foundation Announced Rs 1 Crore funds to the Prathima Cancer Institute for providing Cancer treatment to the poor and needy.
Prathima Foundation Supports #childfriendlytelangana movement
Prathima Foundation Conducted Health Camps in the Month of February
Prathima Foundation's Vaaradhi Study Center Inaugural Ceremony
Inaugural Ceremony of 'Vaaradhi Study Centre' in association with Prathima Foundation by Sri Boinapally Vinod Kumar M.P., Karimnagar Constituency, Sri Sarfaraz Ahmad, IAS District Collector, Karimnagar, Sri V.B. Kamalasan Reddy, IPS., Police Commissioner, Karimnagar. Guest of Honours, Sri Gangula Kamalakar MLA, Karimnagar Constituency Sri Sardar Ravindar Singh Mayor, Karimnagar Sri Naradasu Laxman Rao MLC Smt. Tula Uma ZP Chairperson Sri K. Shashanka, I.A.S., Municipal Commissioner, Karimnagar Sri Eenugu Ravinder Reddy Library Chairman Sri Mazed Ali Division corporator Sri Venkata Ramana Asst. Police Commissioner, Karimnagar Smt. Harini Prathima Foundation Student Union Leaders.
Vaaradhi Study Center in association with Prathima foundation is initiated with a Vision and Mission to provide quality educational material, Library and Study chairs to the students who have no access to these facilities. Prathima Foundation is aiming to provide quality educational support to the students to achieve great milestones in their academics and to support the society.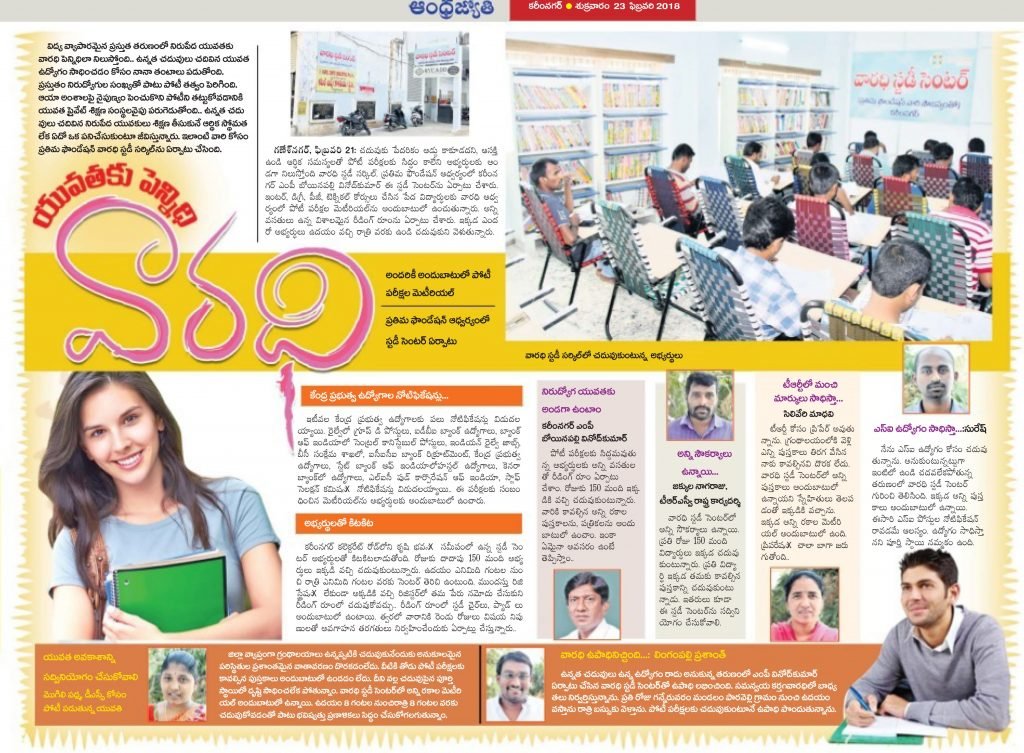 Prathima Foundation Conducted Health Camps in the Month of January
Prathima Foundation, GMR Varalakshmi and Jeeyar Educational Trust "SKILL DEVELOPMENT CENTER"
Honorable Chief Guest and Governor of Maharashtra and Tamilnadu Sri. Chennnamaneni Vidyasagar Rao garu to Inaugurate the 'Skill Development Center" at Nagaram Village, Karimnagar on 2nd September, 2017. Karimnagar Parliament member Sri. Boinapally Vindod Kumar garu, Telangana state Finance Minister Sri. Etela Rajender garu, Telangana state Housing and Law & enforcement Minister Sri. Indrakaran Reddy sir and Vemulavada MLA Sri. CH. Ramesh Babu garu attended to the event. Training enter purely designed for to encourage jobless and students who are lacking in practical knowledge. Course offering – Two-Wheeler repairing, Electrical House wiring, and Solar Technician.
Dr. Harini sponsored Rs 25,000/- to Ms. Anusha Reddy for higher studies in Civil Services. Prathima foundation wishes her good luck.
ITALYNGO students Participated in Guggila Health Camp
Distribution of loans from State Bank of Hyderabad Organised by Prathima Foundatio
Prathima foundation sponsoring Miss Navya for her MBBS education. Prathima foundation wishes her good luck for her studies and she becomes a successful doctor.
All the Best Navya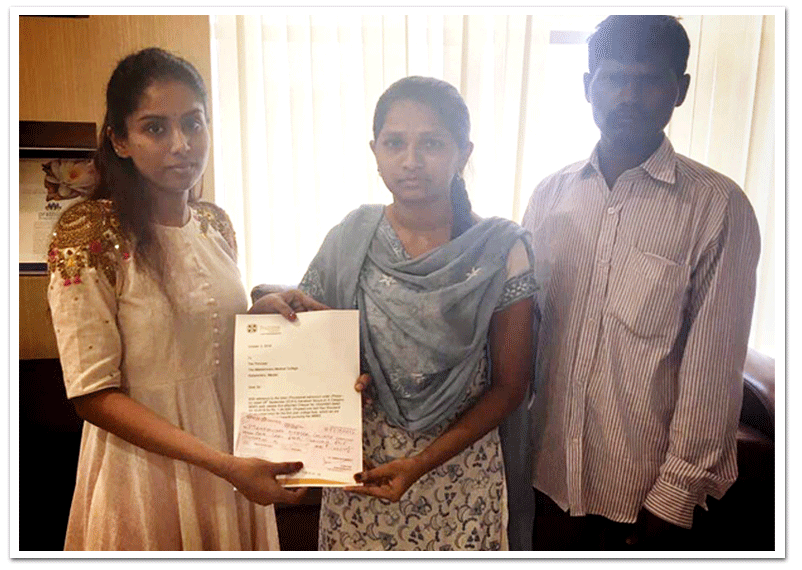 Women Health Awareness Program by Dr. Harini
Dr. Harini distributing the certificates to Basic Sewing Machine Operator
The founder Dr. Harini's meeting with Honourable Governor of Maharashtra Shri. Ch .Vidyasagar Rao, film actor Mr. Aamair khan, actress Mrs.Juhi Chawla during her visit to Raj Bhavan
Prathima Foundation Orientation to Volunteers/ Organiser